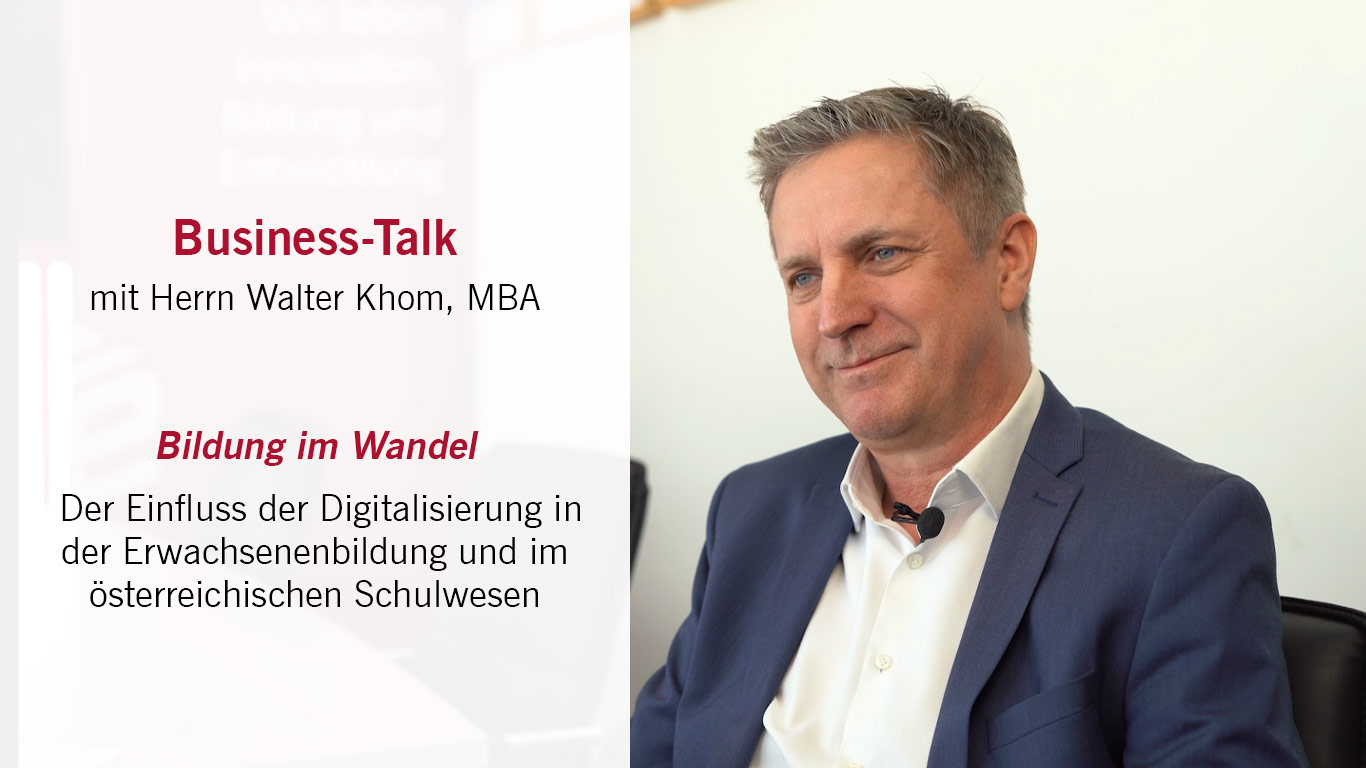 Business Talk with Walter Khom, MBA
General Manager of bit media e-solutions GmbH
Adult education defines itself on the one hand as in-service training and on the other hand as continuing education. However, the task of adult education is to delve into continuing vocational training to meet future and current requirements. While the in-company continuing education is very much directed to the requirements in the company, the continuing education is more directed to the labor market.
Adult education imparts knowledge as well as the necessary skills, but also competencies in a wide variety of subject areas. In practice, continuing education is still implemented in a very traditional way. With seminars, in the form of workshops and in-house training, but also newer forms such as learning-on-the-job or training-on-the-job. Especially in larger organizations, digital continuing education offerings have become very prevalent.
Today, the factor of digitalization has a very strong influence on our entire lives – on business as well as on working life – but also on society. Digitalization is fundamentally changing work processes. For example, the German Institute for Employment Research has calculated that by 2035, half of the jobs, as we know them today, will no longer exist. In another study from Bitkom, the industry association for the German information and telecommunications sector, experts have calculated that the market for artificial intelligence, for example, will increase fivefold in the next 2 to 3 years. We can basically assume that digitalization will dramatically change the world of work and that the speed will increase enormously.
Adult Education in the Future:
What are the requirements for adult education in the future? While the world around us is becoming more digital, especially the world of work, the world of education must also become more digital. We need to move away from formal learning structures and qualification structures, toward more informal structures, using digital methods. Only digital forms will be able to keep up with the speed at which the world of work will change in the medium and long term.

Above all, a high demand for new social and self-management skills will be among the most important factors of the future. And finally, for at least a decade now, the topic of digital competence has been part of the basic equipment of the working world. Digital competence is considered a key skill alongside arithmetic, writing, and reading, and is a prerequisite for every job, no matter what industry it is in.
Development of the school system in Austria:
Basically, school education today is nearly the same that we have known from traditional teaching for many decades. Particularly in Austrian schools, lessons looked very much like they did 50 years ago. Nevertheless, it is worth mentioning that for the last 20 years there has been an increasing use of new media in schools in learning and in teaching. On the one hand, learning platforms were implemented at a very early stage, and digital education and learning offerings were also used in schools, intended to supplement, and not to replace, traditional teaching.
Development of the school system in 2021:
Today, we can say that digitization has arrived at schools. The Corona pandemic was one of the main reasons for this and contributed to the fact that digital teaching methods are used almost everywhere in schools. We are talking about virtual learning environments, homeschooling, learning platforms, distance learning with digital media, and so on. There has thus been a digital boost that would never have taken place without the Corona pandemic or could never have taken place in this form.
Current challenges:
However, the digitization of schools also poses many challenges. On the one hand, pedagogical concepts need to be renewed. Teaching concepts that worked 20 or 30 years ago no longer work one-to-one in today's digital world. Furthermore, digital competencies must be developed and created among all the people involved: teachers, students, and parents. Today, we are talking about a certain tension between digital natives, who are growing up with Facebook, smartphones. Can the use of Facebook and other social media tools be described as digital competence, or does it require much more? Many projects and initiatives are dedicated to this topic today, including the European Reference Framework for Digital Literacy Initiative, which addresses the issue of digital literacy in depth. Ultimately, however, the digital school also needs an infrastructure, appropriate networks, modern end devices ranging from tablets to notebooks, to make digital instruction possible.
Digital School in Austria:
What is currently happening in Austria in the field of digital schools? Austria has a master plan, the 8-point plan for the digitalization of education in Austria. On the one hand, this plan provides for the expansion of the infrastructure, on the other hand, for the availability of digital devices across as much of the country as possible, and for the promotion of digital literacy. Basically, we can say that we are on a very good path in Austria, even if we still have some catching up to do compared to northern European countries. Nevertheless, Austria is absolutely on the right track here.
Digital School in Austria – Requirements:
What are the requirements for digital schools in the future? The requirements are that digital instruction is not an option or a supplement, but that digital instruction takes place permanently and constantly. Digitally supported methods will therefore be a constant companion in everyday life, and not just in the afternoon. And this requires constant quality development, digital quality development at schools.
Conclusion:
The digital school cannot be solved on the basis of infrastructure alone; the digital school needs new pedagogical concepts and new methods of teaching. Ultimately, it is also essential that computer literacy becomes much more important in the future. Why? The world of work is changing, today and tomorrow. Digitization is shaping the new professions, and with this in mind, general education and training must address these new changes accordingly and offer new concepts.
Do you have any questions about our products? Then do not hesitate to contact us.
Your Contact person:
Walter Khom, MBA
Managing Director
Email: walter.khom@bitmedia.at